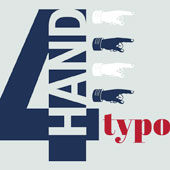 Veronika was invited to give a talk at the TDC Salon, 12th April at 6:30 pm.
Veronika was invited to speak at the
TDC
in New York, coming month, 12th April. She will discuss her collaborative work within TypeTogether on type designs conceived for intensive editorial use. The focus will be on the complex issues behind technical, historical and theoretical aspects of these typefaces. How they are set, printed and read. Go to
TDC website
for details.
If you are in the area please come and join.
About Us
TypeTogether is an indie type foundry committed to excellence in type design with a focus on editorial use. Additionally, TypeTogether creates custom type design for corporate use. We invite you to browse our library of retail fonts or contact us to discuss custom type design projects.