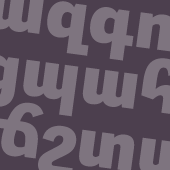 Leaving Rosetta
December 2012
Veronika and José, co-founders of Rosetta Type Foundry, are stepping out of Rosetta.
Veronika Burian and José Scaglione, co-founders of Rosetta Type Foundry, announced that on November 1st 2012, they ceased their involvement with the Rosetta Type Foundry. They are taking this step to strengthen their focus on the improvement and further development of the TypeTogether retail library and tailored fonts service. As such, new and exciting releases are planned for the first half of 2013, which will cover extended language support and multiple scripts.


About Us
TypeTogether is an indie type foundry committed to excellence in type design with a focus on editorial use. Additionally, TypeTogether creates custom type design for corporate use. We invite you to browse our library of retail fonts or contact us to discuss custom type design projects.