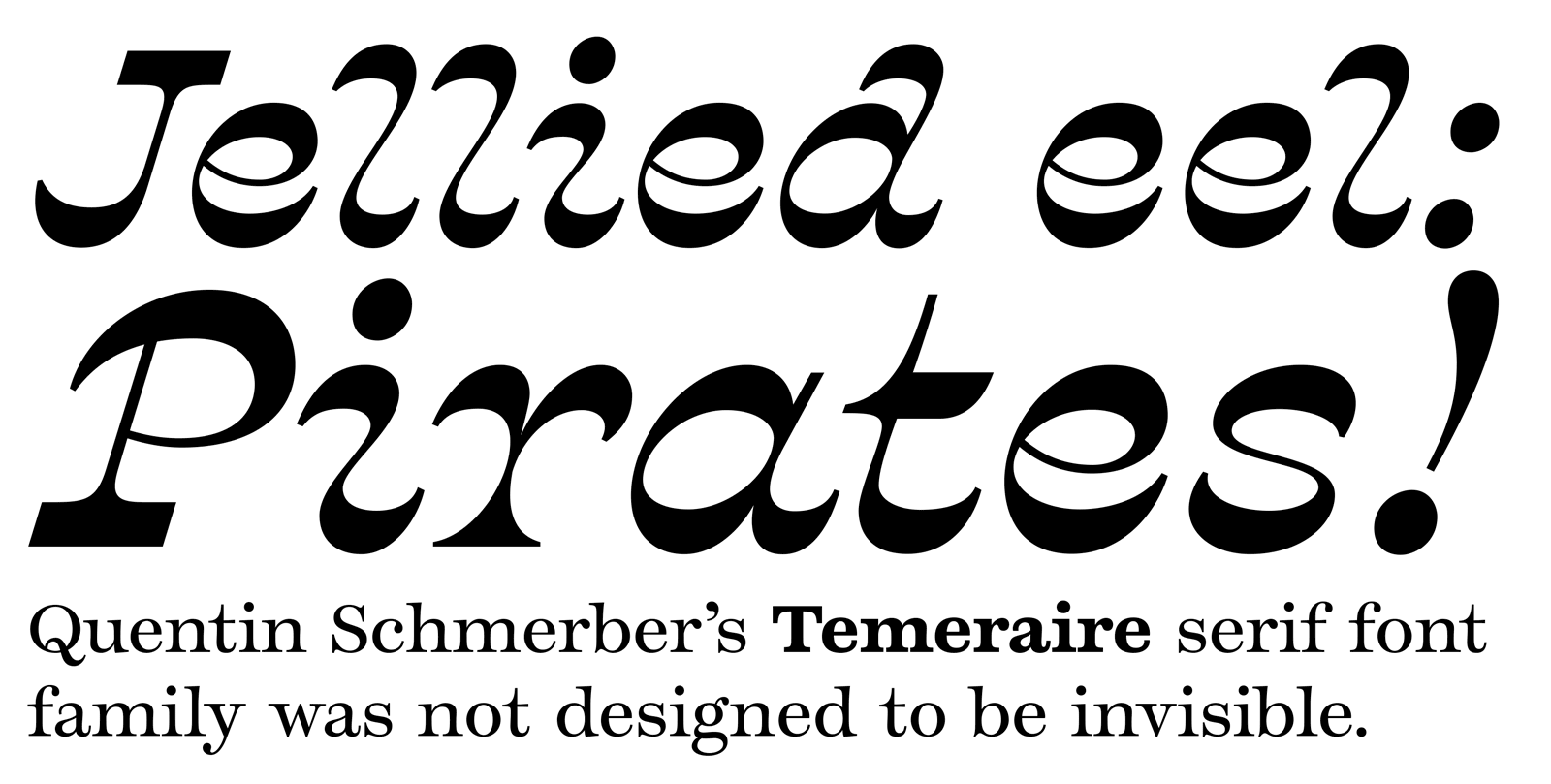 New release: Eye-catching Temeraire
We know you've waited a while and now Quentin Schmerber's Temeraire is available! Conspicuous. Eye-catching. Ready for book covers, for large formats, and text needing panache. Some type families are subservient companions, but Temeraire intends to turn heads and draw readers in with some wonderful alternate glyphs among its five styles (Regular, Italic, Bold, Italienne Italic, Black Display). Did we mention this type family won our third Typeface Publishing Incentive Programme? Try each winning style in our type tester, then toss your copy in your cart.
READ MORE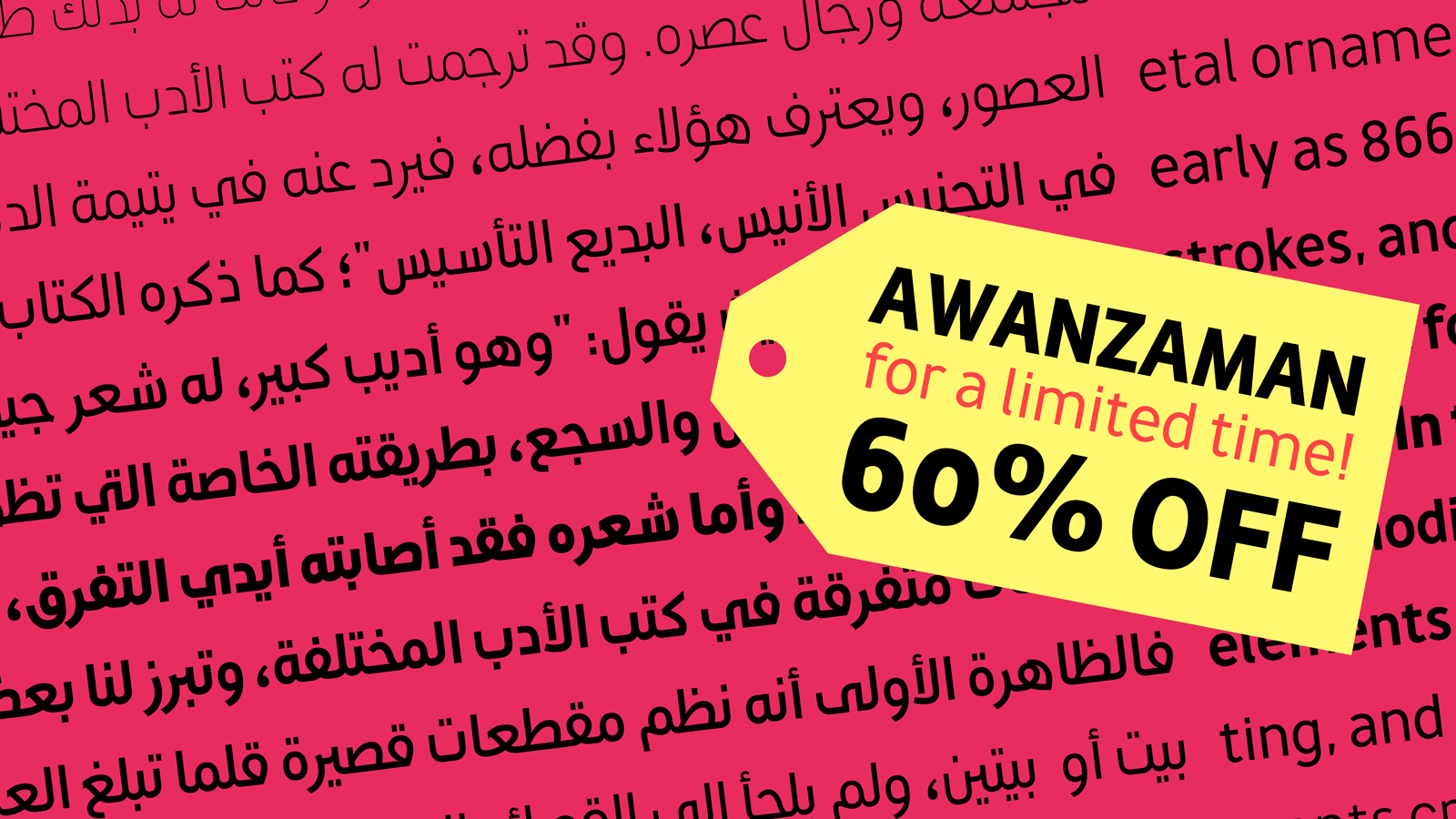 AwanZaman flash sale
Log in now to take advantage of the AwanZaman flash sale! For the next 14 days only, get a 60% discount on the full AwanZaman family, the clever dual-script sans begun in geometric Arabic, then cleverly and harmoniously advanced into Latin. This seven-weight powerhouse makes extensive use of OpenType's stylistic sets (20 in the Arabic and four in the Latin) so writers and designers can make the most of everything from a single glyph in display sizes down to dense text in paragraphs. To get 60% off, add the family bundle to your cart and apply this code b4ca4017 at the checkout. Grab the family now before this deal is over!
Excellence in Arabic: Meet Azza
The colleagues that make up TypeTogether's core team are among the top in their respective fields. Azza Alameddine is another example — she's a brilliant graphic and type designer, a detailed researcher, and a consistent producer of ideas and solutions. She is TypeTogether's resident Arabic expert who most recently designed Adelle Sans Arabic and wrote the article on Arabic type anatomy that was so well received. Azza also handles much of the quality assurance for each type family, ensuring you get the highest quality fonts that will work in any supporting environment and program. On top of these responsibilities, she freelances for global clients in the areas of graphic design and type design consultancy. We are honoured to introduce you to Azza Alameddine. You'll see much more from her in the years to come!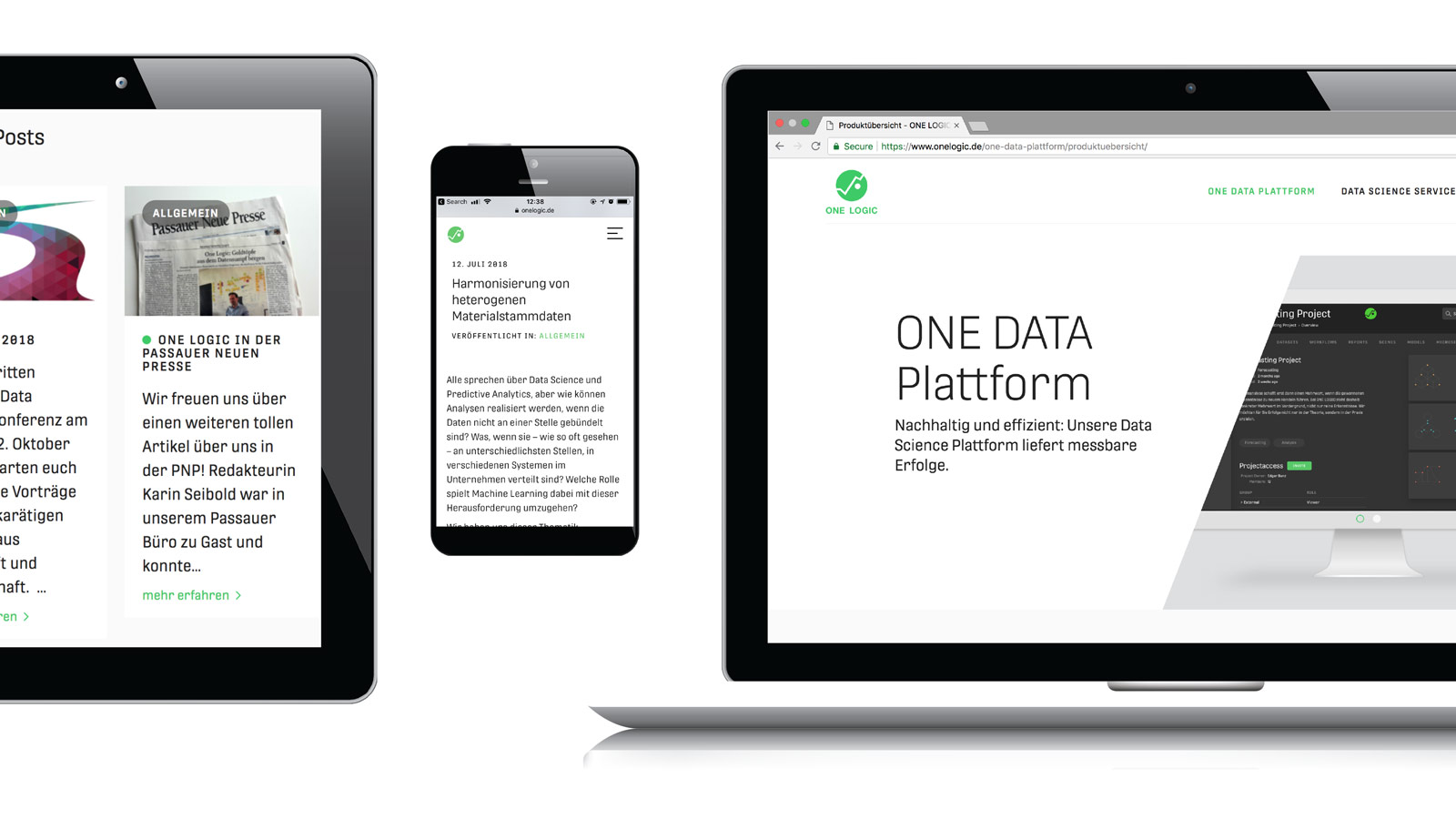 Protipo used for data website
Sometimes we release a type family with such a specific purpose that we can only hope it reaches the right kind of user. Protipo was created for infographics, UI, and UX. And memes. (Can't forget memes, but only because they're more popular than the others.) Besides our Protipo showcase minisite, One Logic is the first major use we've heard of that employs Protipo and Protipo Narrow across the entire site. One Logic is a tech company founded in 2013 and specialising in data science and artificial intelligence, combining expert knowledge and guidance with software services. See how Protipo has been deployed to wonderful effect for their brand and into informative articles on their blog here.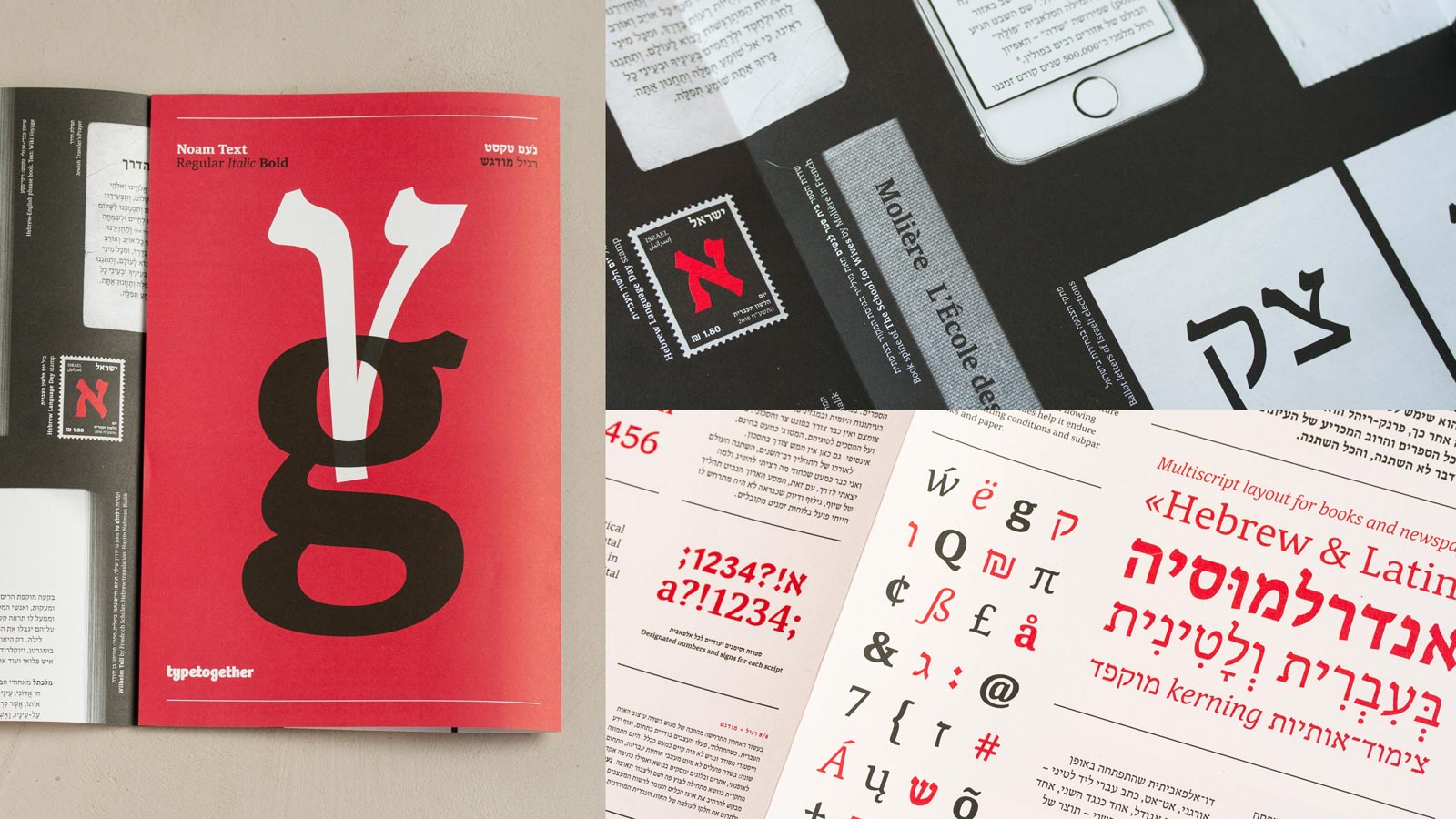 Noam Text specimen: Bilingual progress
Noam Text is a dual script family (Hebrew and Latin) with the stable resilience required for a newspaper typeface, and the harmony required for setting modern bilingual text of any category. As part of TypeTogether's educational commitment, Israeli designer Avi Bohbot created a specimen to show how Adi Stern's bilingual type family performs in print. The beautiful printed specimen folds out to 54×28 cm, has been printed by AB Offset Ltd on Munken Lynx paper, and is distributed for free by TypeTogether; we only charge the shipping and handling fee in advance.

%%emailaddress%%

To stop receiving these emails:%%unsubscribelink%%