It was a full schedule but the students displayed such enthusiasm and willingness to experiment and learn that it was a pleasure to work with them.

The students spent the first two weeks researching historical sources, getting inspired by visits to remarkable libraries to see original books and manuscripts, learning about different styles of calligraphy, and exploring the type cooker method with Marina Chaccur. Does that not sound like enough? Well, they also started drawing and digitising their own typography projects. Their concepts vary from an informal italic style, to a stiff slab, to calligraphic book faces, and a text face inspired by Chinese.

The students who come from as varied locations as Australia, Sweden, and Brazil are in good hands being instructed throughout the five weeks by Jean François Porchez, Mathieu Reguér, Xavier Dupré —who has published Garalda with TypeTogether— and a whole list of guest critics.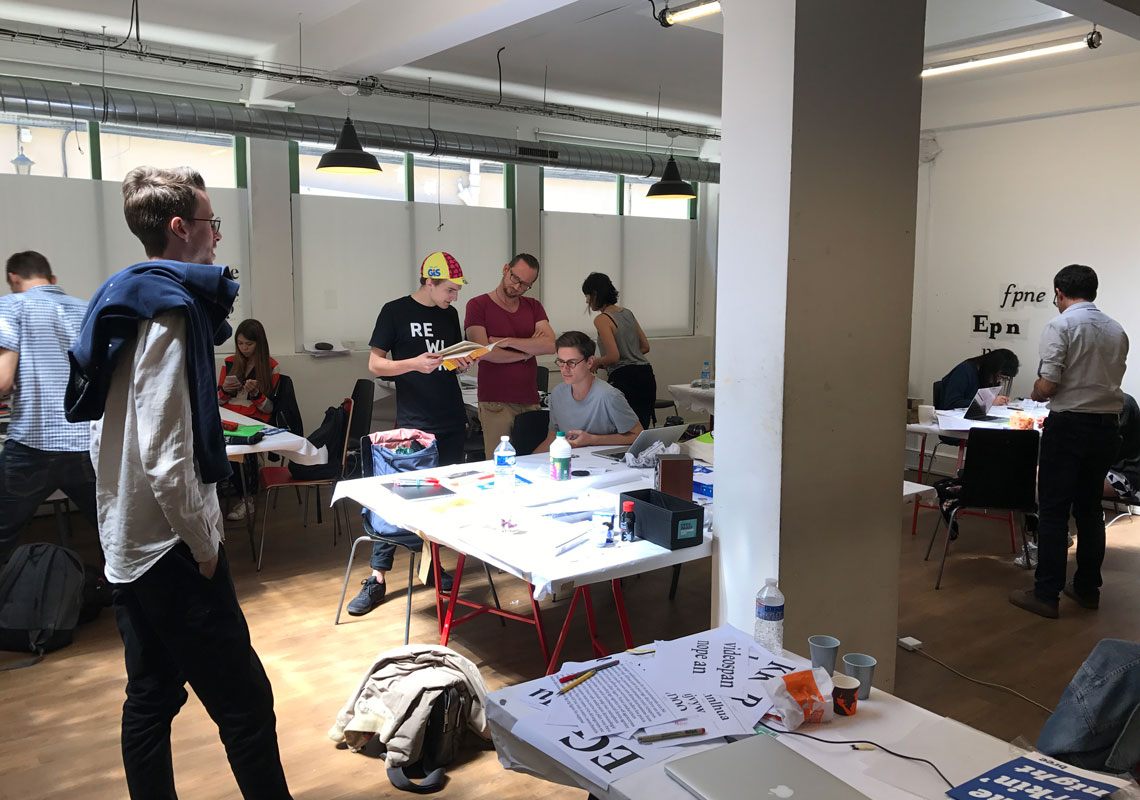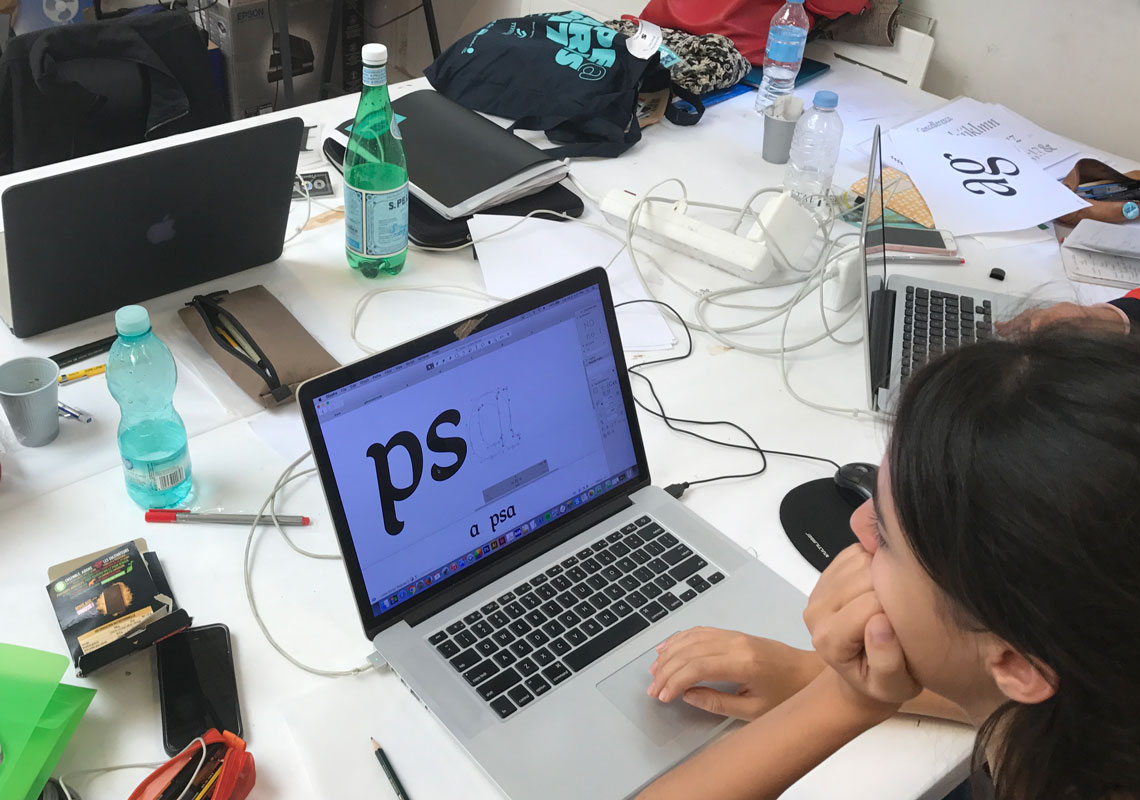 five tips for type beginners
When asked to give five tips for type beginners, Veronika shared these:

1) Function & purpose
Having a well-defined brief of what the intended purpose and function of the typeface is will help define parameters for the design. For example, an informal font for children will require different criteria than a text face for newspapers.
These parameters will help decide items such as contrast, stem thickness, modulation, serif structure, x-height, and extenders, helping shape the typeface's DNA with just a few letters.

2) Research
Generally speaking, it is important and very useful to know type history. It allows the designer to understand the construction of letters, which parts can be manipulated, and where the connections lie within the system. However, history should not be the only place of research. Contemporary needs and current type offerings might also open your eyes to seeing gaps, and therefore opportunities.

3) Experimentation
At times having a purpose may seem limiting, but the possibilities available within a defined design space can be surprising. When speaking of functional text typography, type design happens in the subtle changes of design elements that shape an harmonious system. Small variations can have a big impact due to the repetition rate of letters within a paragraph of text.
At the beginning of the process, take time to explore, mix shapes and styles, go to extremes, even experiment with different tools, and analyse why one idea works within a concept but others don't.

4) Consistency
It may seem very mundane and obvious, but being consistent within a type system can be more difficult than imagined. It is one of the main ingredients that makes a typeface cohesive — glued together appropriately. This is especially important for components such as stem thickness, overshoots, vertical proportions, etc.
It is necessary to understand the structure of strokes and terminals, their provenience, and modulation to then apply similar treatment to the rest of the design. This does not mean that the elements have to be exactly the same, but they should follow the same logic. Actually, depending on style and purpose of the typeface, it is advisable to keep a certain sense of irregularity rather than a copy–paste feeling. This advise applies of course not just to lowercases and caps, but to the whole character set, from punctuation and math operators to accents.

5) Testing
Once the typeface is underway, it is important to test it as much as possible. Try to imagine the effects of the intended environment and even emulate them if possible. So if you are developing a typeface for screen use, make some mock-up text in html and test on different screens and mobile phones. Or if the concept is for newspaper use, use a copy machine several times with rough paper or a cheap ink-jet printer. Only a small character set with the key letters is needed to fine-tune the DNA of the typeface so it works for its intended purpose.

Oh and don't forget to excersise!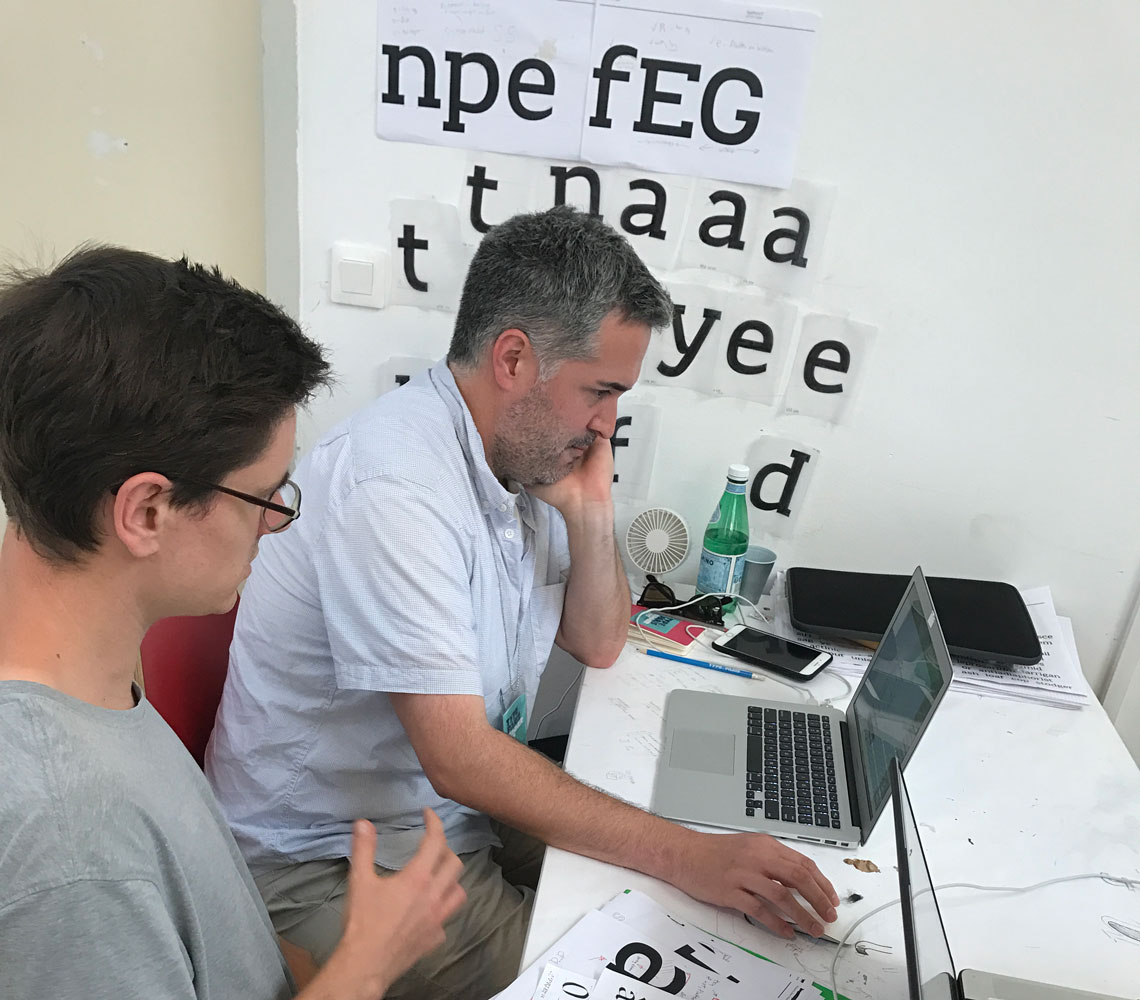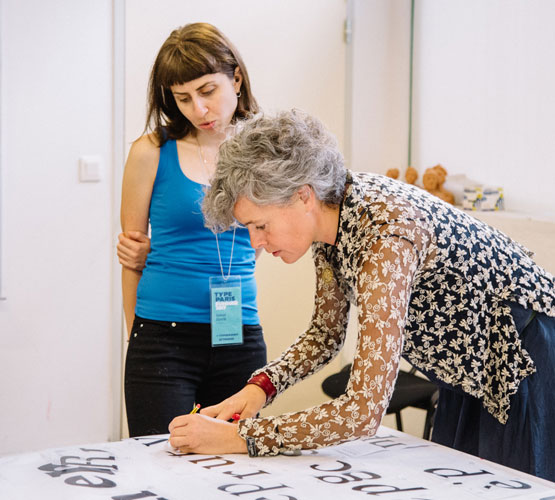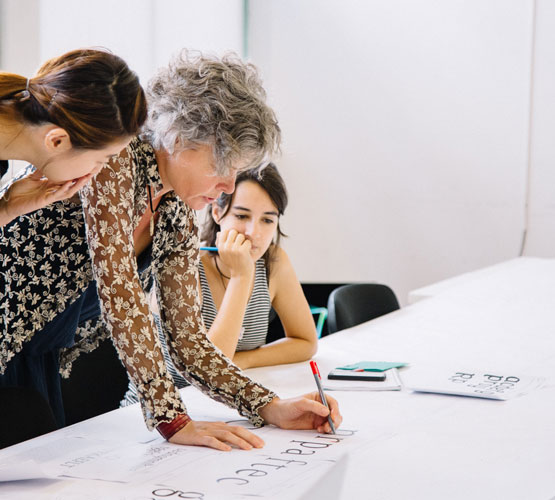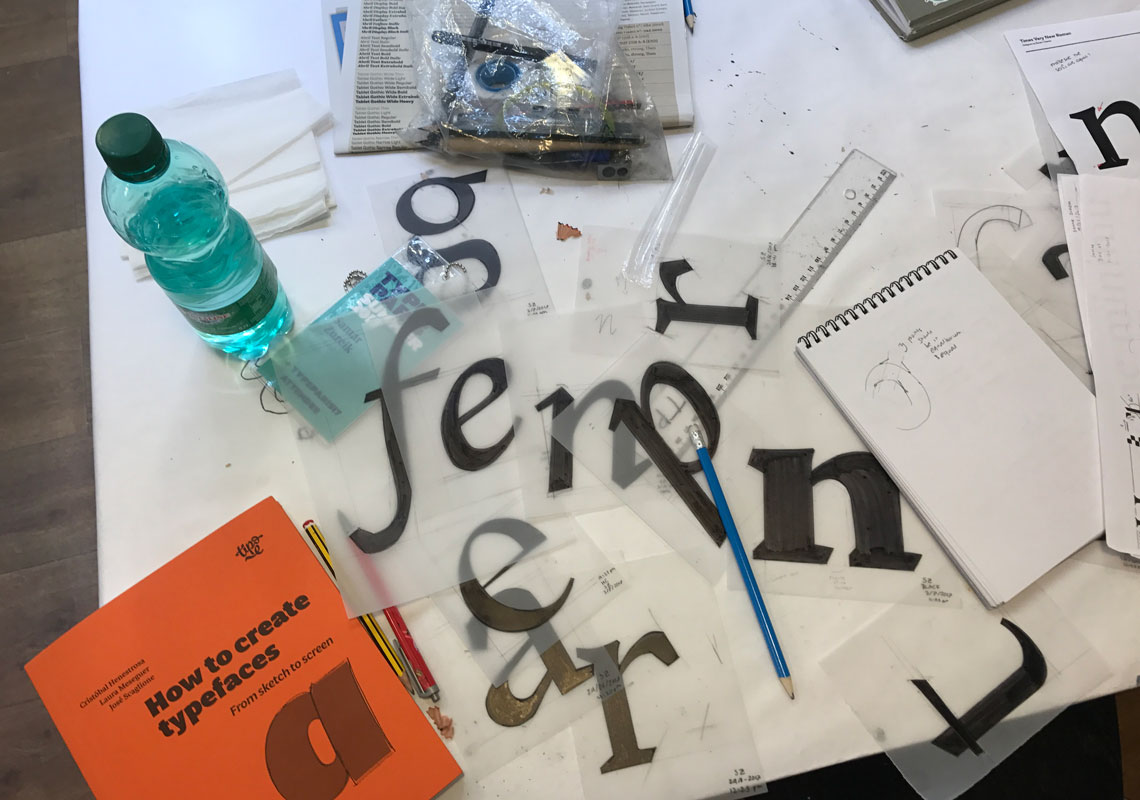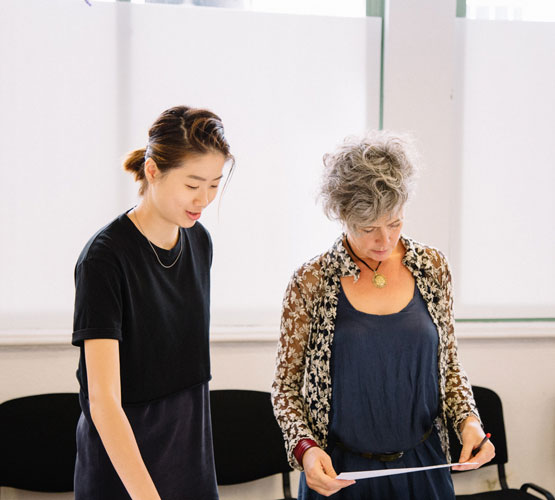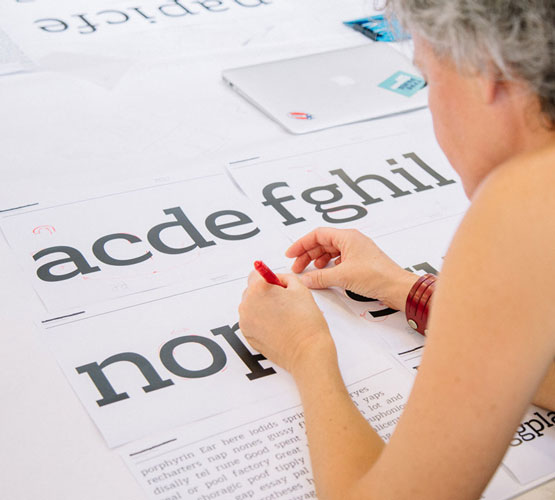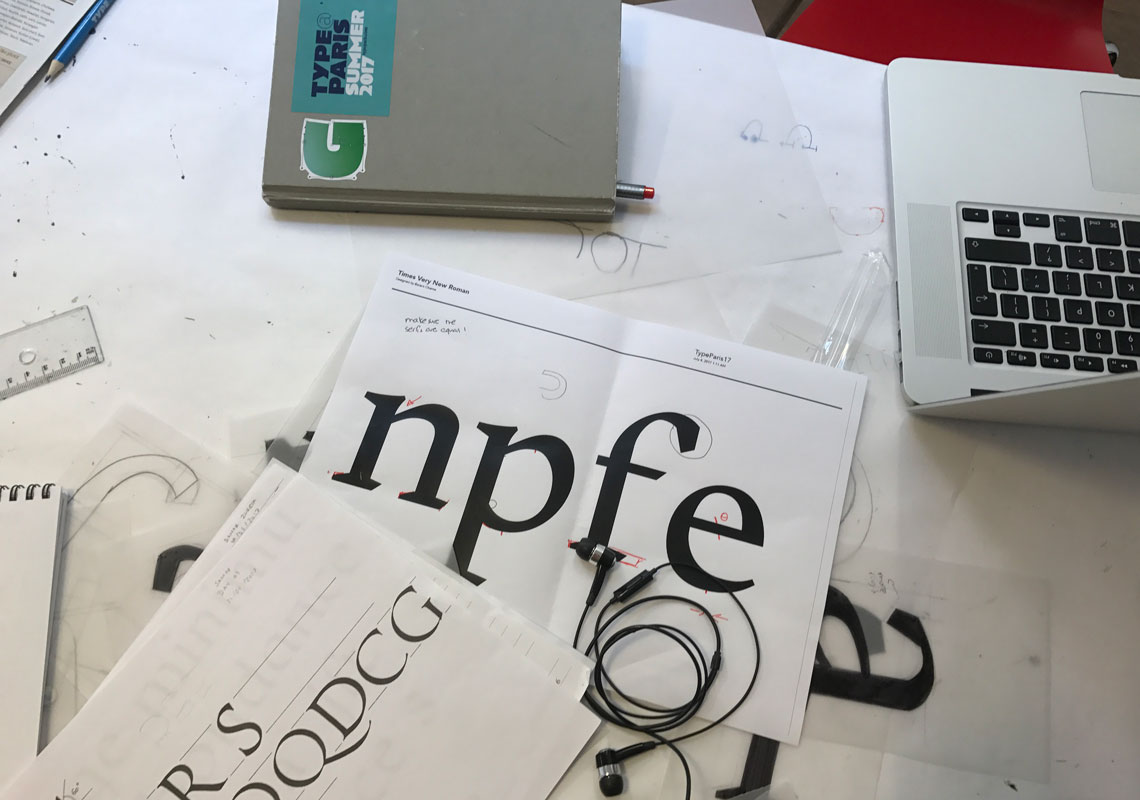 Additionally every Tuesday TypeParis organises a set of talks #tptalks17 at Le Tank, a co-working place for creatives, with two speakers and one facilitator, good conversations, and some food and drink. The talks are free to the public and are also streamed live and available on YouTube.

July 4th saw first Olivier Alexanian & Thibault Caizergues who talked about their involvement as part of the design team for the French presidential campaign of Emmanuel Macron and some of their private design work. After a break Veronika spoke about the different levels of existing typeface customisation and presented the design process behind a few of TypeTogether's tailored projects.

Overall it was a very intense but invigorating day at TypeParis!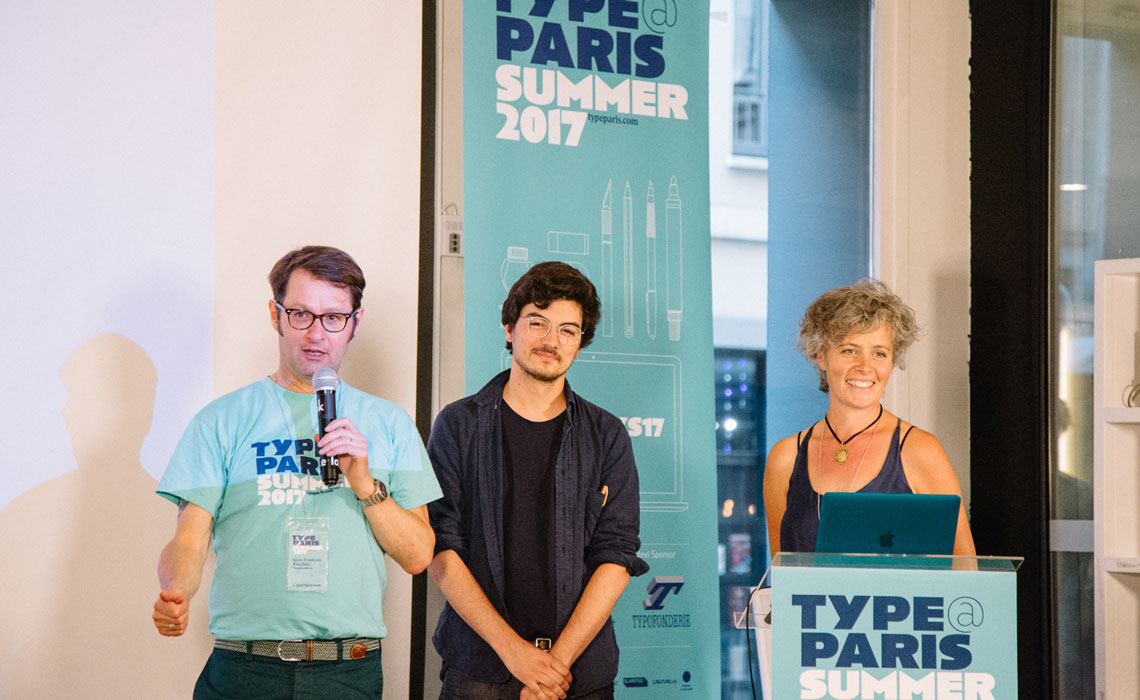 About Us
TypeTogether is an indie type foundry committed to excellence in type design with a focus on editorial use. Additionally, TypeTogether creates custom type design for corporate use. We invite you to browse our library of retail fonts or contact us to discuss custom type design projects.